Product-Categories
New Products
All Product > 3G-SDI Optical Transceiver > 3G-SDI SFP+ 1xLC single Optical Transmitter|Receiver
DESCRIPTION:
The SFPS3G10TX is a single channel optical single mode transmitter module and the SFPS3G00RX is a single channel optical single mode Receiver module designed to transmit optical serial digital signals as defined in SMPTE 297-2006. It supports from 50 Mbps to 3 Gbps and is specifically designed for transmitted the SMPTE 259M, SMPTE 344M, SMPTE292M and SMPTE 424M SDI pathological patterns. They are with the SFP 20-pin connector to allow hot plug capability. The transmitter can transmit signal from 50 Mbps to 3 Gbps with up to 30 km of single-mode fiber when using the SFPS3G00RX as the receiver.
Block Diagram: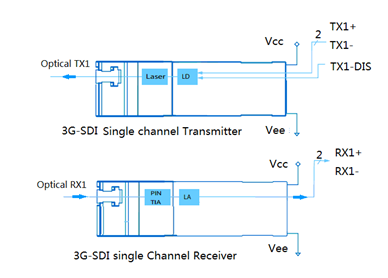 FEATURES:
1. SMPTE 297-2006 Compatible
2. Speed from 50 Mbps to 3Gbps with up to 30 km
3. Single-mode Fiber
4. Distance up to 70 km for 3G-SDI
5. Support Video Pathological Patterns for SD-SDI,
6. HD-SDI and 3G-SDI
7. Single Transmitter with Simplex LC
8. Based on Industry Standard SFP
9. TTL Laser Disable Input
10. Single +3.3 V Power Supply
11. RoHS-6 Compliant
12. 0 to 70oC Operation
13. Hot Pluggable
APPLICATIONS:
1. SMPTE 297-2006 Compliant Electrical-to-Optical
2. Interfaces
3. High-density Video Routers

3G|HD|SD-SDI compatible SFPs TINOUT range of optical video SFPs are designed for CWDM applications.The range of dual transmitters and transceivers sup...

Tinout CWDM SFP+ transceiver is small form factor pluggable module for bi-directional serial optical data communications such as IEEE 802.3ae 10GBASE-LR/LW/ER/ZR. It is ...